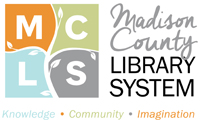 Ready to discover your family story? Start with yourself and let ancestry.com search for you. This service is accessible at any of the 5 branches of the Madison County Library System. No remote access.
Search for book titles based on authors, topics, or titles of books. Searching for Accelerated Reader books is fun and easy with this free online tool.
Mobile app to search our catalog, place holds, and renew material.


(For Home or Remote User, login will be your Library Card Number)
Gale Virtual Reference Library is a database of encyclopedias and specialized reference sources for multidisciplinary research. These reference materials once were accessible only in the library, but now you can access them online from the library or remotely 24/7. Because each library creates its own eBook collection, the content you see may vary if you use the database at different libraries (your school, your public library, or your office).


For home access please click here. Search census, books, PERSI, Freedman's Bank, and more...


Prep for SAT's, learn career enhancement skills, prep for state job exams, prep for various school grade math and reading test, etc.


A digitized collection of Madison County photographs, census records, diaries, family group sheets, family histories, newspaper articles, maps, marriage records, military personnel records, and oral interviews.


"MAGNOLIA is a statewide consortium funded by the Mississippi Legislature which provides online research databases for publicly funded K-12 schools, public libraries, community college libraries, and university libraries in Mississippi." MCLS patrons have remote access privileges.



This website is maintained by LexisNexis®, the publisher of the Mississippi Code of 1972 annotated to provide free public access to the law.


Search thousands of fiction series and view hundreds of hand-crafted Recommended Reads reading lists for adults, teens and kids covering both fiction genres and topics.


This new service helps you learn languages as fast as a rocket. Speak and understand a new language like a native, while cutting your study time dramatically.